By: Miami New Times WriterJUN 26, 2020
You probably already know that Miami is home to some of the most beautiful people in the world – but did you know that it's also a hotspot for the best-dressed? As an international fashion capital, Miami is a one-of-a-kind destination for designers, models and fashionistas alike. The shopping is out of this world, the list of fashion events is long and diverse, and the sunny streets are the perfect place to show off your shopping scores. Here in Miami, style is everything.
Want to know more about fashion in Miami? Whether you're searching for malls in Miami, high-end boutiques or Miami fashion events, we have you (fashionably) covered.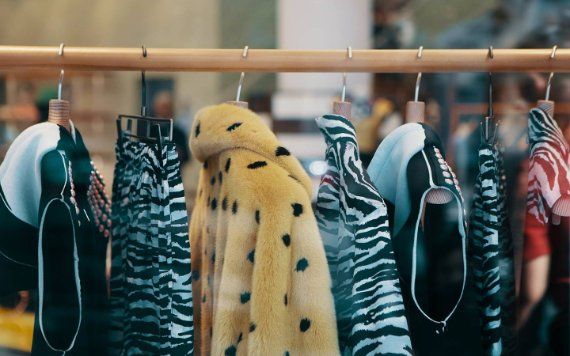 DESIGNER SHOPPING FOR HIGH-FASHION LOVERS
Is your closet stocked with designer duds? Or maybe you're just looking to treat yourself to the perfect high-end piece? Whatever brings you to the world of designer boutiques in Miami, the destination's always-evolving selection of upscale labels is impressive. Here are just a few of our favorite places to shop for designer fashions in Miami.
The Webster Miami
Imagine a fashion paradise in the form of a three-story boutique, complete with an Art Deco exterior, rooftop deck and racks upon racks of designer gems for men, women and children – that's The Webster Miami. Founded by two fashion veterans with a passion for all things high-end, The Webster spans 20,000 square feet of luxury labels and designer exclusives. Revered but hard-to-find brands like Balmain can be found alongside well-known names like Burberry, Givenchy and Stella McCartney. Don't be surprised if you find yourself browsing alongside famous fashion editors, stylists and influencers, because The Webster is a favorite of those in-the-know.
Miami Design District
Think Rodeo Drive but with a distinctly Miami spin, and you have the Miami Design District. Here, you'll find a wide assortment of upscale designer boutiques spanning a few blocks and serving up a fashion journey you can easily make on foot. International brands sit alongside high-end local boutiques, giving you plenty of style selections. Pop into Dior, Cartier or Balenciaga for the newest must-have designer pieces. Then, breeze through Boheme, Chrome Hearts or ODDS to find something uniquely you. Other fashion favorites in the Miami Design District include Prada, Max Mara, Louis Vuitton, Fendi and Dolce & Gabbana.
STELLAR MALLS OVERFLOWING WITH STYLE
If a shopping mall is more your style, you can find plenty of those in Miami as well. Miami shopping malls house everything from the budget-friendly to the luxurious under one roof, so you can make the most of your day of shopping. Here are a few Miami malls worth a look:
Bal Harbour Shops
At Bal Harbour Shops, you can enjoy Miami's famously gorgeous weather while crossing all of this season's fashion staples off your list. This open-air shopping mall houses designer boutiques like Chanel, Burberry, Carolina Herrera and Prada, as well as some of the best restaurants in Miami.
Dolphin Mall
As one of the largest shopping destinations in Miami, Dolphin Mall offers a huge mix of stores for fashionistas who love a good deal. A wide variety of outlets, including Saks Fifth Avenue OFF 5th, offer up an outstanding selection of quality pieces at prices that are almost too good to be true.
Aventura Mall
At Aventura Mall, you'll have free rein to explore three stories of luxe boutiques alongside trendy favorites, mixing it up for a shopping trip that's as high-priced or budget-friendly as you'd like. Once you've filled your arms with shopping bags, grab a bite to eat at one of more than 50 eateries.
Other Miami Malls
Have more shopping to do? Consider making a stop at one of the other top shopping malls in Miami, like Dadeland Mall, The Falls, Shops at Merrick Park, and Sunset Place.
FASHION-CENTRIC EVENTS THAT DRAW THE CHIC AND STYLISH
It's not just shopping that brings fashion-forward looks to Miami; the destination also hosts some of the world's most famous fashion events. There are plenty of opportunities to find your front-row seat to catch all the action on (and off) the runway, so you can claim your spot as one of Miami's true fashion lovers.
Miami Fashion Week
Hailed as one of the largest fashion events dedicated to Latin American and international designers, Miami Fashion Week is a highly anticipated annual gathering of fashion royalty. A mix of runway shows and industry parties honor the creativity, diversity and, of course, the impeccable sense of style that makes up the Miami fashion community.
Miami Swim Week
Every July, Miami hosts Miami Swim Week. This week-long celebration of designer swimwear offers events that are open to the public as well as industry-only shows, so you can experience fashion magic even if you're not a professional.
STAY ON TOP OF THE LATEST IN MIAMI FASHION
If you consider yourself a fashionista, Miami is a stylish destination you won't want to miss. From upscale designer boutiques to the best outlet shops, you'll find plenty of places to expand your personal wardrobe. And when it comes to fashion events, Miami is an international destination for the world's most beloved style icons.
Make sure you're well-prepared to experience fashion in Miami by checking out our full collection of the best places to shop in Miami.